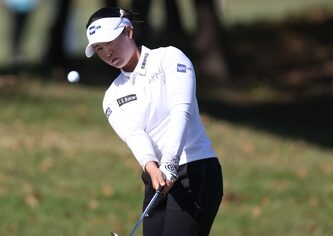 Lim Hee-jung held a shaky lead on the third day of the Sangsangin-Korea Economic TV Open on the Korean Ladies Professional Golf Association (KLPGA) Tour .Lim made three birdies, one double-bogey and three bogeys to drop two strokes in the third round of the tournament at the par-72 Mulgil and Flowergil courses at Lakewood Country Club in Yangju, Gyeonggi-do, South Korea, on Monday. With a 10-under-par 206 total, Lim held onto the lead but left the rest of the field to catch up.
Lim, who started the third round with a five-stroke lead, faltered after dropping three shots in the first half. On the par-3 sixth hole, she dropped her tee shot into a bunker around the green and was unable to get out in one shot, resulting in a double bogey .After seemingly recovering with two birdies in the second half, Lim lost another stroke on the 15th hole (par-5) after hitting the rough. "There are days when you play four days and it just doesn't work out, and today was one of those days. The pin position was really difficult," she said.
However, Lim said, "The course itself suits me well. I will play aggressively tomorrow," she said. While Lim faltered, other players picked up the pace .Five-time defending champion Lee So-mi shaved three strokes off her score over the course of the day to post a 9-under-par 207 total and move into second place, one shot behind Lim. Rookie Kim Min-sun is in third place with an 8-under-par 208, while three-time winner Ji Han-sol is in fourth place at 7-under-par 209, 토토 leaving the door open for an upset.